Events of Note: Week of November 16
Below are  "pop scholarship" in Boise events on the TBR calendar this week. We keep our eyes out for events on and off campus that coincide with our mission to deepen public involvement and understanding, to debate the ideas of our time and place and to bridge the worlds of academia, journalism and the public interest.
TBR Essays reflect a writers own views on contemporary topics.
Feel free to let us know of other interesting, upcoming events by emailing the editor or in the comments below.
TBR-recommended events for the week of Nov. 16 – 22, 2015
Fall Conference on Language, Identity and Culture, Tuesday & Wednesday
Students from Boise State's multilingual writing courses and English language support programs speak to their experiences growing up in culturally and linguistically diverse environments. From 3-4:15 p.m. on Nov. 17 and 18 in the Student Union Building's Simplot Ballrooms (C Ballroom on Tuesday; D Ballroom on Wednesday). No registration or RSVP necessary. Light refreshments will be served.
Western Invasive Weed Summit, Tuesday-Thursday
The goal of the summit is to build on the recent Western Association of Fish and Wildlife Agencies (WAFWA) publication, Invasive Plant Management and Greater Sage-grouse Conservation: A Review and Status Report with Strategic Recommendations for Improvement (Ielmini et al 2015). We will refine the report's challenges and barriers and develop recommendations for securing adequate and consistent program funding at local, state, and federal levels. Details via The Andrus Center for Public Policy (registration is full).
Andrew Heben for Boise Alternative Shelter Coalition, Thursday
Heben is an urban planner, writer, and tiny house builder based in Eugene, Oregon. He has visited over a dozen tent cities and tiny house villages throughout the country, and spent time living in an unsanctioned, self-governed tent city known as Camp Take Notice in Ann Arbor, Michigan. Heben has since helped co-found Opportunity Village Eugene, a non-profit organization that puts many of the ideas within this book into action. Lecture is Thursday, November 19th from 6-8:30pm at the Cathedral of the Rockies, 717 N 11th Street in Boise and presented by the Boise Alternative Shelter Cooperative (Facebook event). Free and open to the public.
Also Thursday: Ulama: A Survival of the Pre-Columbian Ballgame
6 p.m. on Thursday Nov. 19 in the Interactive Learning Center, room 118. Art department lecture by visiting professor Manuel Aguilar-Moreno on an ancient Aztec sport titled, "Ulama: A Survival of the Pre-Columbian Ballgame." The game is known as one of the oldest continuously played sports and the oldest known game utilizing a rubber ball. This talk is free and open to the public.
Aguilar-Moreno is co-director of Proyecto Ulama, a multidisciplinary research program conducted by the Departments of Art and Anthropology at California State University, Los Angeles (CSULA) investigating the survival of Ulamaliztli, the ballgame played by the ancient Aztecs, in a number of small towns in Sinaloa, Mexico. Among the topics considered are the placement of thetaste (from the Aztec word tlachtli for ballcourt) within the social landscape, the scale of production of rubber (Aztec: ulli; Spanish: hule), and the role of women in the game. His talk is sponsored in cooperation with the Boise State Visiting Artist and Scholar committee.
Politics and Policy Brownbag, Friday: Brazil
Dr. WagnerRomão from the State University of Campinas in Brazil will give a talk titled "Between Democracy Building and Political Confrontation: Civil Society and the Recent Protests in Brazil," at noon of Friday, Nov. 20 in Hatch C (in the Student Union Building).
Wagner de Melo Romão holds a Ph.D. in sociology (University of São Paulo – USP) and is currently professor of political science at the State University of Campinas – Unicamp. He is a researcher of the Research Group on Social Movements, Participation and Collective Action (Nepac – Unicamp) and the Democracy Center and Collective Action (NDAC – CEBRAP). He has published articles and book chapters on participatory democracy, public policy, political parties and political participation. Romão is co-organizer of the book, Sociedade Civil e Políticas Públicas: Atores e Instituições no Brasil Contemporâneo.
Lit for Lunch, Friday: Truong's Book of Salt
Meets at 12:10 p.m. at Boise Public Library, 715 S. Capitol Blvd. Presented by the Department of English at Boise State. Book discussions are free and open to the public. Features Monique Truong, "The Book of Salt" (2004). Binh, the Vietnamese cook in Gertrude Stein and Alice B. Toklas's 1930s household, gives a fascinating exile's view of Paris, slowly revealing his past in colonized Saigon and offering an insider's view of the complex salon surrounding a literary "genius."
BSidesBoise Infosec Conference, Saturday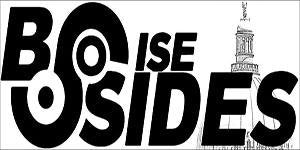 Can't say much about this event, but it covers all things security: hacking, lockpicking, social engineering, breakers and builders. 8 am to 5 pm, Saturday 11/21 at Trailhead Boise, 500 S. 8th St. Tickets available through Eventbrite.
The views and opinions expressed here are those of the writer and do not necessarily reflect those of Boise State University, the Center for Idaho History and Politics, or the School of Public Service.